How do I describe what Michelle Materre meant to me as a colleague, mentor, and friend?  
To know Michelle was to bear witness to the power of her grace and the love she felt for all people. Hers was a commitment to help students and colleagues reach their fullest potential–and their heart's desires.  
Michelle hailed from the South Side of Chicago, the Chatham neighborhood to be precise. As a teenager, she was one of the first students to break the color barrier at the prestigious Latin School before leaving Chicago for college at Antioch and later Boston. 
Michelle is part of a lineage of Chicago women whose excellence, though rarefied by the mainstream media, is the norm there. On a national level, we are familiar with Chicagoans like the former First Lady, Michelle Obama, and the esteemed presidential advisor Valerie Jarrett. The South Side was also home to the late Dr. Margaret Burroughs, founder of the DuSable Museum; Mellody Hobson, American businesswoman, President and CEO of Ariel Investments and co-founder of the Lucas Museum of Narrative Art; and Margo Jefferson, noted journalist, critic and author of Negroland. In fact, the creator of the popular series The Chi, Lena Waithe, hails from the South Side too. 
Michelle and her sisters grew up with Pat Cruz, CEO and Artistic Director of Harlem Stage, and after arriving in New York City, she shared a decades-long friendship with Milly Hawk Daniel, the former Vice President of Communications at Policylink, a national research action institute for advancing economic and social equity. Like Michelle, these women from the South Side of Chicago had an impact on not only the city but the nation. 
Proud of my Chicago roots, I believe it is important to recognize the presence, humility, and brilliance of these women. 
In 1992, Materre co-founded one of the first African American-owned film distribution companies, KJM3 Entertainment Group, which managed the marketing, positioning and distribution of over twenty-three films by filmmakers of African descent, including "Daughters of the Dust," the highly acclaimed film by Julie Dash, as well as "L'Homme Sur Les Quais" (The Man By the Shore) by Raoul Peck. 
Rejecting narratives of marginalization, toxic pigmentocracy, self-pity or victimhood, Michelle understood there was an underserved and under-resourced market for the films and experiences she offered with her signature program, Creatively Speaking. Throughout her career and through this program, she highlighted African American cinema by seasoned, mid-career, and emerging filmmakers alike, with an emphasis on work created by women and those from the Caribbean and the Global South. 
In 2015, Creatively Speaking co-presented the unprecedented film series Tell It Like It Is: Black Independents in NYC 1968-1986 with The Film Society of Lincoln Center and earned the Film Heritage Award by the National Society of Film Critics. A second series presented in March 2017, One Way or Another: Black Women Filmmakers 1970 – 1991, was acknowledged by Richard Brody of The New Yorker Magazine as "The Best Repertory Series of 2017." This series was awarded the "Film Heritage" Award of 2017 by the National Society of Film Critics. In addition to her accolades and awards, Michelle served on the New York Women in Film and Television Board of New York and was Chair of the Board of Directors at Women Make Movies. 
Michelle championed countless filmmakers, including Sabrina Schmidt-Gordon, Crystal Emery, Shola Lynch, Yvonne Welbon, Cristina Ibarra, Cristina Kotz-Cornejo, Pam Sporn, Tami Gold, Loira Limbal, Ann Bennett, Byron Hurt, Alex Rivera, Savanna Washington, Thomas Allen Harris, Bernardo Ruiz, Pearl Bowser, Julie Dash, the late St. Claire Bourne, the scholars Pooja Rangan, PhD and Jennifer Scott, PhD, and many others.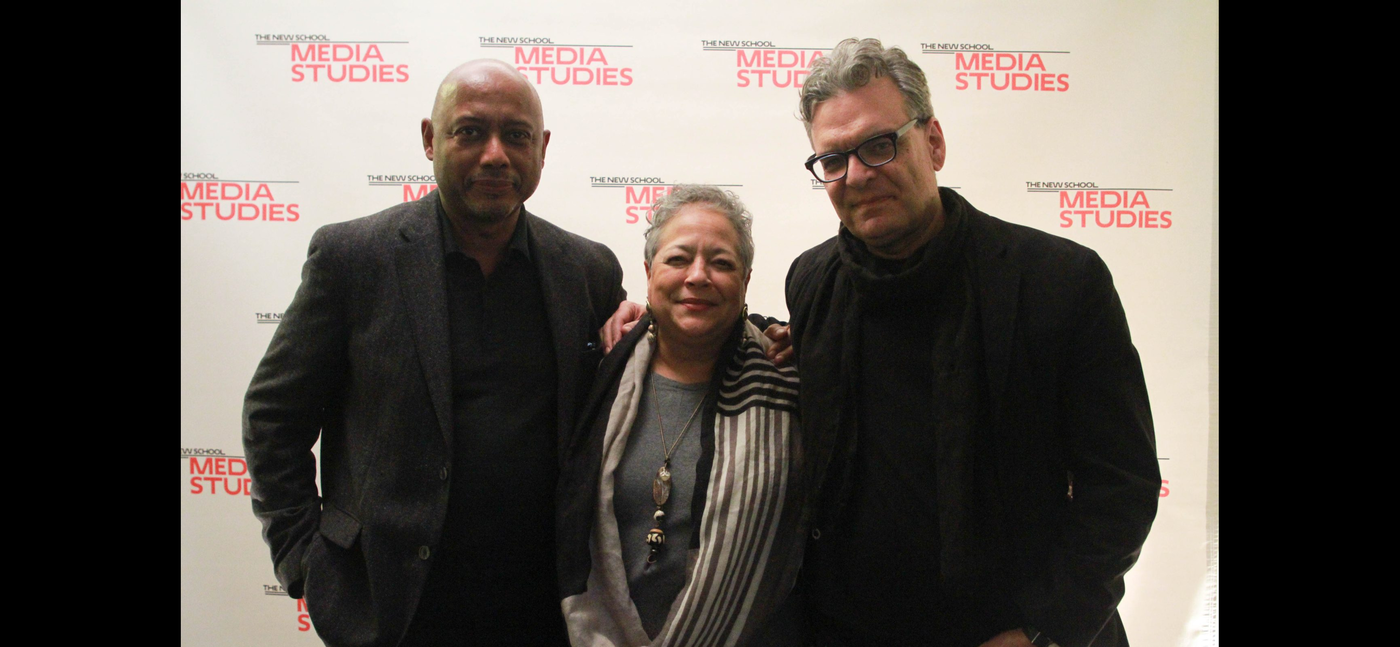 Michelle Materre (center) with filmmaker Raoul Peck (left) and Vladan Nikolic, Dean, School of Media Studies. (via The New School News)
Her expertise became central to her pedagogy. For over 20 years on the faculty at The New School, she became known for her courses 'Race, Ethnicity and Class in Media' and 'Film Distribution and New Media.' In 2005, she was honored with The New School's Distinguished Teaching Award. Mary Watson, Executive Dean of the Schools of Public Engagement at The New School, advised, "Michelle and her legacy are emblematic of The New School—focused racial justice action, positive energy in shaping the future, and indefatigable belief in the power of community. She was deeply loved." In recognition of her accomplishments, The New School Board of Trustees posthumously conferred Michelle Materre with The New School's highest lifetime academic honor—the title of Emerita Professor.
Michelle inspired hope and optimism. She cultivated a vibrant, strong, and self-reliant creative community.
Michelle was tireless in her pursuits and lived up to what I perceive as her purpose and mission: to educate, build community, uplift the rich multiverse of Black stories, and to celebrate and showcase the talent and creativity of diverse filmmakers and women overlooked by mainstream media. 
The late Toni Morrison proposed, "...the function of freedom is to free somebody else. If you have some power, then your job is to empower somebody else." Over the course of her life, Michelle embodied this ideal, empowering others with her everyday, human decisions. Michelle, ever the lady, donned invisible silk gloves and did her part for her community with respect and dignity. How? With a simple: Hi, Honey, How are you? What do you need? How can I help you? An honest, I've missed you– or a sincere I need you. 
Michelle, we miss you and how your beautiful smile tilted to greet the sun.
Neyda Martinez, an Associate Professor and Director in The New School's Media Management Graduate Program within the School of Media Studies, is producer of the documentary films LUCKY and Decade of Fire, winner of the 2019-2020 PBS Independent Lens Audience Award. From 2002 and for nearly a decade, she served as Michelle Materre's co-curator and co-producer of Materre's Creatively Speaking film series.