The New Historia recognizes poet, filmmaker, and songwriter Kari Krome as a trailblazer whose inherently feminist mentality led her to realize her vision for a successful all-female rock band. Krome was the founding member and primary songwriter of the popular '70s  rock band The Runaways, and yet–because she was ousted from the group before they went mainstream–her contributions to rock and roll history go unrecognized.
Her ambition was born out of frustration at not seeing enough women on stage playing rock music: The New Historia applauds her bravery, gumption, and self-determination for setting the wheels of female rock and roll in motion.
Music has always been a fickle business when it comes to gender roles. For millennia, women were considered lucky if they were muses, a role that offered them the so-called "honor" of "inspiring" the male genius behind the "art," while offering these women zero agency or credibility in the creative process. Today, the music industry, especially rock and roll, has consistently proven itself to be one of the slowest fields to catch up with women's rights. But women have always been the backbone of the music industry. If the careers of Elvis and the Beatles have proven anything, it's that there is enormous power in the teenage girl dollar. Women have been hustling tirelessly behind the scenes for decades, working in artist management, band publicity, photography, and music journalism, even when there were few women on the stage.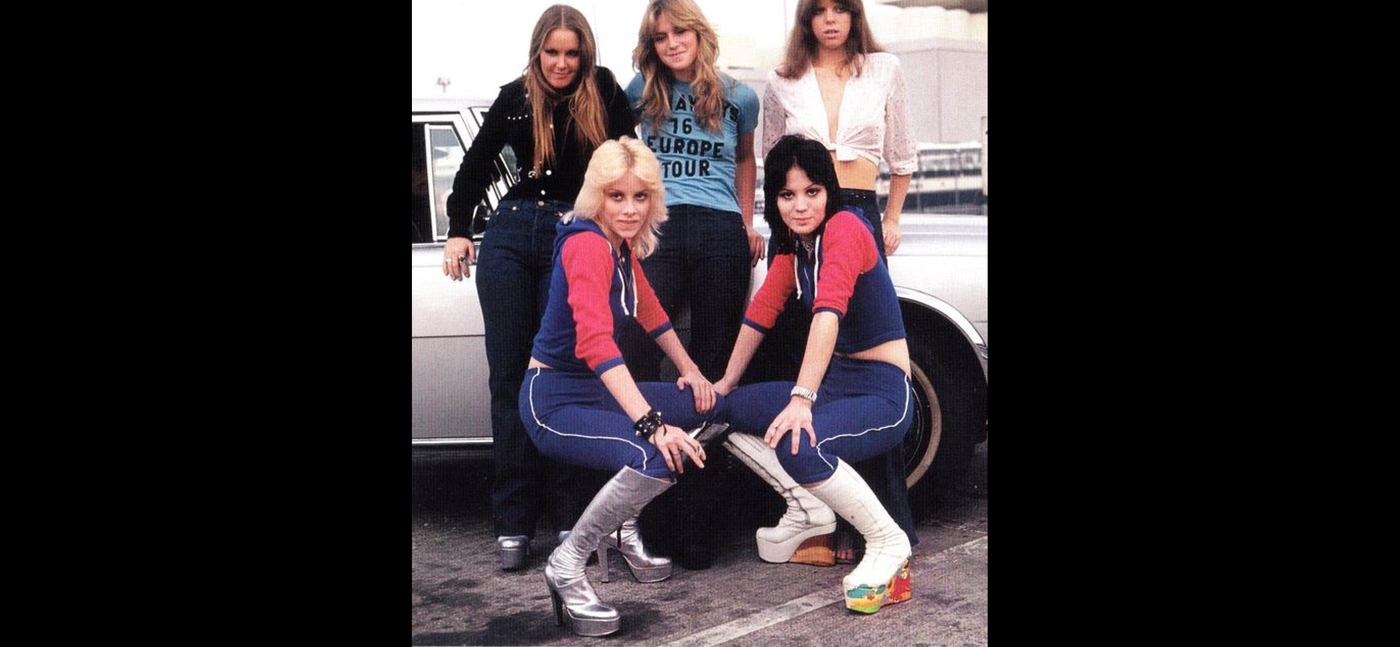 The Runaways in 1976 (clockwise from top left): Lita Ford, Sandy West, Jackie Fox, Joan Jett, Cherie Currie (via Wikimedia Commons, fair use)
As far as rock and roll legacies go, the California all-female rock band The Runaways, known for their hit songs such as "Cherry Bomb," and "Dead End Justice," are certainly enviable. Before Joan Jett (rhythm guitar, vocals), Lita Ford (lead guitar), Cherie Curie (vocals), Jackie Fox (bass, vocals), and Sandy West (drums) busted through the iron gates of the music industry to bathe in the glory of punk rock infamy, men had dominated rock and roll and actively prevented women from breaking through: unless their career trajectories were on a man's terms. This often comes in the form of managers, recording labels, and men with self-described authority in a female musician's private life. Before The Runaways, several all-female rock bands from major labels like Fanny, Goldie and the Gingerbreads, and Birtha had tried to achieve critical and commercial success, to no avail.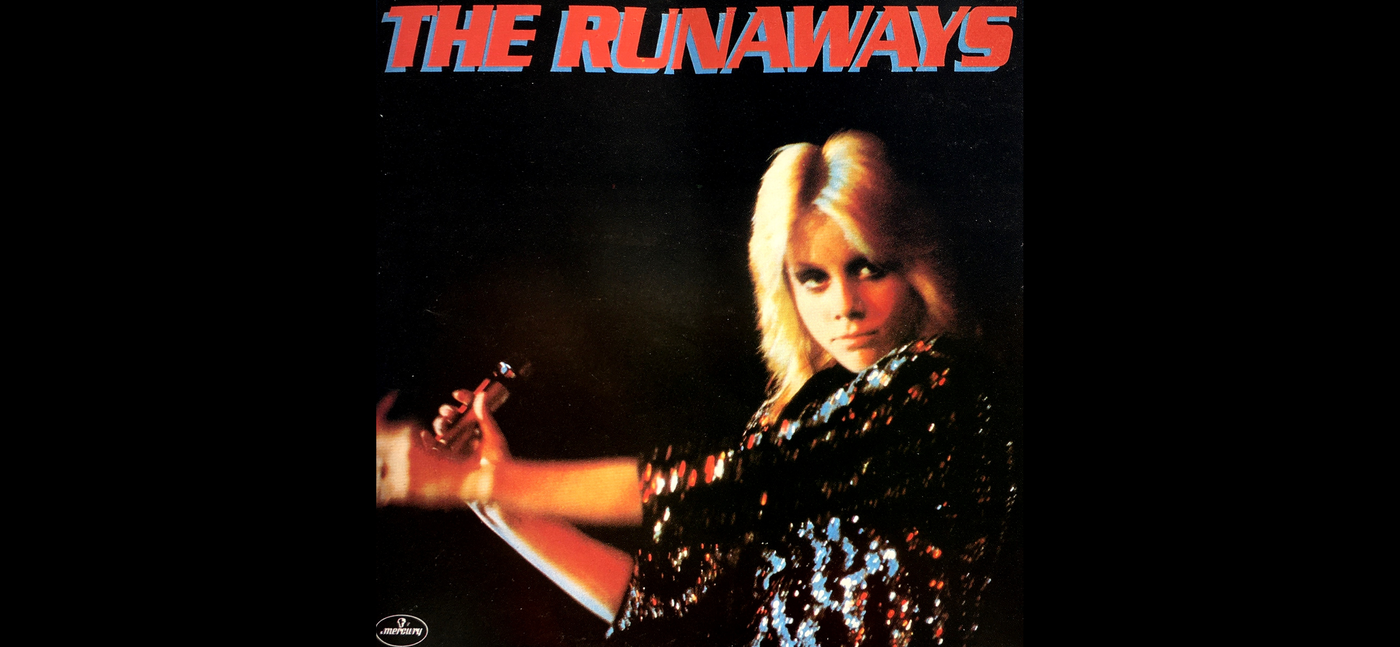 Cover art for the album The Runaways by The Runaways, released in 1976 (via Mercury Records, Wikimedia Commons, fair use)
The Runaways' success is frequently attributed to their manager, the infamous rock and roll Svengali of the Sunset Strip, Kim Fowley. And while Fowley was certainly instrumental in helping bring the band together and promote them in the early stages of their career, the band would not exist without Kari Krome. 
Kari Krome was The Runaways' primary lyricist who signed a publishing deal with Kim Fowley when she was fourteen. She introduced Fowley to her guitarist friend and eventual girlfriend, Joan Larkin, known to the world as Joan Jett. If Fowley lit the fuse that set off the cherry bomb, then it was Krome who supplied the flame.
Krome was born in Lakewood, California in 1960. A child of welfare, her family moved around California frequently, dwelling in neighborhoods like Bell Gardens, Compton, Downey, and North Long beach, which Krome described as "a cultural wasteland." Krome knew that she was queer from an early age, and always remained true to her identity, despite the disapproval of her parents. In the early 1970s, misogyny, oppression of women, and queerness were still taboo topics of conversation. Krome's sexuality was viewed as abnormal at best and immoral at worst. By 1973, the APA had only just removed homosexuality from the list of mental illnesses, and queerness was still looked down upon in mainstream culture.
Krome's brazenly unapologetic openness about her sexuality was one of the many ways she defied gender expectations at a time when civil rights, women's rights, and the queer liberation movement were still in their relative infancy.
Writing poetry and losing herself in the glory of rock and roll were where Krome sought refuge from her troubled home life. In a conversation with Alice Bag, Krome described the impact that rock music has had on her life as follows: "It's always been about glam and punk for me and always will be. Nothing's changed. When I'm 80, I'll be on the bus: confused, covered in cat fur, but I bet I'll be able to quote you the words to 'Rebel Rebel.'"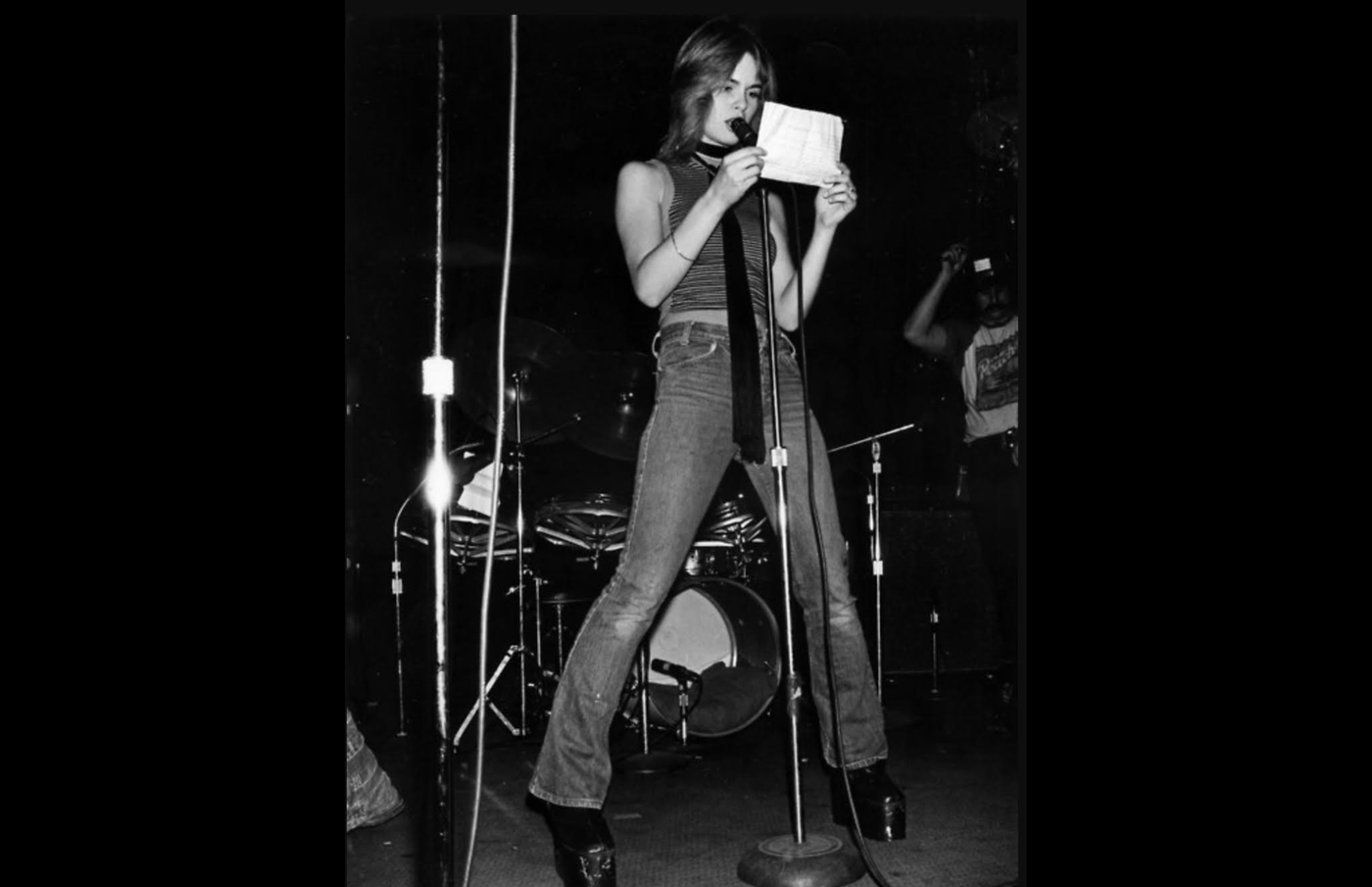 Kari Krome on stage (via Wikimedia Commons, public domain)
As a teenager, Krome hitchhiked regularly to Hollywood nightclubs like Rodney's English Disco, the Sugar Shack, and the Palladium, which was where she first met Kim Fowley. As the primary lyricist for The Runaways, Krome would write songs for Fowley, which earned her a salary of $100 per month. She wrote several of The Runaways' early recordings including the songs "California Paradise," "Thunder," "Waiting for the Night," "Secrets," "Switchblade Music," and "Yesterday's Kids," a youthful anthem decrying the generational gap between The Runaways' age demographic and their parents ("Yesterday's kids better step aside/Yesterday's kids with their terrible lies"). 
Fowley would later go on to claim credit for Krome's songwriting, an unfortunate but unsurprising revelation, as so many creative and brilliant women have been sabotaged by the older, more powerful men in their circles. However, many people today are continuing the important work of honoring Kari Krome's legacy, from punk legend and feminist archivist Alice Bag to music journalist and author Evelyn McDonnell, who featured Krome's story heavily in the 2013 Runaways biography, Queens of Noise. 
Krome is still creating to this day, amassing an impressive portfolio of poetry, writings, photography, and recordings. She worked as a reporter for Time Inc. for seven years and also writes for LA Beat and The Huffington Post. She is also working on a recording under the moniker 'Kari Krome is a Teenage Frankenstein.' She can also be found on Twitter @KariLKrome. 
Isabel Corp is a writer, digital content creator, podcaster, and blogger based in New York City. She graduated from The New School in 2021 with a Bachelor's degree in Literary Studies and her writing has been published in them., POPSUGAR, and Salty. When she isn't writing, she enjoys browsing independent record stores and crowd-surfing at local punk shows. You can read and listen to her interviews with influential women and queer people in music, on her blog A Grrrls Two Sound Cents, and her podcast Sounding Out with Izzy.